North of Archosaur, and north of the nearest zone to Archosaur also (Flag Hill). South of Etherblade Outskirts, east of Broken Bow Bluff and Bengal Ridge. West of the little-used but picturesque Mount Lantern area, and the Allies Camp nearer Archosaur. Incorporates the Orchid Temple and Secret Passage areas (and the Secret Passage entrance which in turn incorporates the entrance to Hall of Deception), and the Tomb of Heroes area.
Teleporting with Town Portal or Portal Incense from anywhere in Shining Tidewood will transport the character to North Archosaur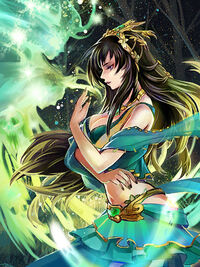 Many of the Summer and most of the Autumn Seasonal Harbinger quests are completed here, and even the Autumn Avatar which is the end step of very Autumn Harbinger quest spawns at the very edge of the Shining Tidewood, in Etherblade Outskirts
Flag Hill
Edit
Actually part of Archosaur's outskirts, Flag Hill has many of the same creatures as the south of Shining Tidewoo
Orchid Temple
Edit
Many many main (orange) quests are begun or completed here. Fang the Scholar is the NPC for most of them, but also the Master Bladescraftsman just outside the south gate, and the Ladywraith on the other side of the north wall
Ad blocker interference detected!
Wikia is a free-to-use site that makes money from advertising. We have a modified experience for viewers using ad blockers

Wikia is not accessible if you've made further modifications. Remove the custom ad blocker rule(s) and the page will load as expected.