Some item rewards, in the order in which their quests can be obtained. Many have been integrated into the X > Y > Minister > Duke > Royal gear that was part of the Dreamchaser Starter Kit but now is in marked quest chains.
Other rewards, not included here, can be obtained from the Beginner Quests. Before the Genesis expansion, gear tended to not be included as rewards from Spiritual Cultivation quests, but now is MORE likely to be. Gear rewards from quests continue to be fewer as level increases, and quests tend to become more numerous, although since the XP requirements for each level increase faster, quests become a smaller and smaller part of XP , income.
Award for best reward goes to the sixth of the Legend quest chain to dig treasures for the Lochmur. Emerald Meteor for caster classes. It is only a very close second for Heavy Armor users, who get Silver Crescent. Archer, Assassin and Duskblade will like it as well as the mages like their ring, because both the Magic bonus of the mage, and the Dexterity bonus of the melee, add to damage for these classes. This ring is better than the Roll Call ring, and players can get it much sooner too. Amazingly, although it cannot be traded to other players, it can be traded between characters on the same account with the Account Stash.
List of Level 20-29 Quests Minister, Duke and subsequent weapons should not be Destroyed at the PWI x, but instead traded with one of Assistant Wang Tsai's incarnations (almost always near a Banker), for Perfect Stones
Duke Weapon - Yangsheng's Missing. General Summer and Guard Chin, Archosaur West
Killing Qingzi : Duke Fingerband (Magic <Magic and Physical, but extra Magic bonus>), Duke Ring (Physical <Magic and Physical, but extra Physical bonus>). Duke Necklace (Evasion), Duke Amulet (Element resists)
Minister Necklace. Various NPCs depending on race. Untamed, from Merchant Chien in Broken Bridge Village, quest to kill level 24 Riding Wolf x 10.
Necklaces, all with +1% XP: ☆☆Red Cloud Necklace, Phys Def 68, Strength +2/3; ☆☆Bael's Necklace, Evasion 43, Dex +2/3; ☆☆Bloody Chain of the Fallen, Elemental Def 68, Magic +2/3 - reward from a more than twenty-part quest chain for levels 26-40: Lone Girl in the Wild
Replaced with Duke x. ☆Battle Helmet of Agility. +HP helm with physical defense. Level 29-?[1] quest chain: Yansheng's Missing, from Guard Chin at the west gate of Archosaur then > Find Some Clues from General Summer then > Winged Elf Tien - General Summer > Yansheng's Dog Tag > Find Yansheng > Wraith Yansheng - kill Yansheng, Hirudini Barbarian at the Mines west-northwest of Archosaur
Still same reward after Genesis : ☆☆☆Heavy Cuisses of the Fallen (460 coins), ☆☆☆Belt of the Fallen Soul (physical resistance) (320 coins), ☆☆☆Blue-green Pants (arcane, +2 MP recovery, 240 coins). All are listed in the database as being decomposed to one Perfect Stone each; this is obviously too good to be true and in fact they cannot be decomposed at all. Level 29+ quest Hall of Deception-Kill Qingzi, the Secret Passage/FB 29 boss. Tree Flute in six levels was much easier, for a better heavy armor reward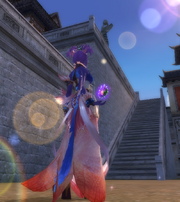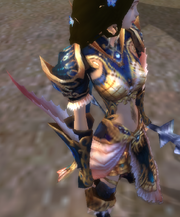 ++ For Decompose only, 15 Ssuhsiang Stone: Swift Boots - Physical Resistance 39, Elemental Resistances 350. Reward from level 44-60 quest "More Victories" Tailor Yang - 369 760
☆☆Bow of the Goddess, Physical attack 305-565, Maximum Physical Attack +38, MP +110; a rare weapon reward, and even more rarely, a bow. Or ☆Artemis' Belt, Evasion 73, Water Resistance +61, HP +30. Reward for killing Suzerix (46-60 quest:The Believer - Sumor Camp Elder - 334 827) - once an impossible task at 46. Back when Suzerix was difficult to kill, there was another, later quest in the same area, the reward from which was a debuff which made it easier to kill Suzerix: Hero Legend (level 53-105) from Blacksmith Mo Yun - 367 763. The amulet decomposes to 102 Ssuhsiang Stones, but the bow, to a whopping 240 of the same level 4 chi.
☆☆Devil Hunter's Sword, ☆☆Devil Hunter's Ring (Glaive) - at 290-434 damage, no longer weapons of choice, but decompose for a whopping 254 Ssuhsiang Stones; level 48-60 quest: Town of Arrivals, in the far western namesake town, from Blacksmith Teng 117 640. Virridis Stormhorn must be killed
☆☆Wand of the Red Dragon (Pataka) 253-470, again decomposes for 254 Ssuhsiang Stones. ☆☆Krimson Drake Belt, Elemental defense +123; Level 48-60 quest Skull Mountain Invader; Sundown Town Elder - 127 589. Jewelscalen must be killed
The Trust of Elder quest, also at Sundown Town. Reward is ??
++ For Decompose only: Robe of Serpent Lord - Physical Defense +99, Elemental defense +890, Wood Resistance +255, MP +130. Belt of the Viper King, Elemental defense 152, Wood 109, Magic +3/4. Rewards of level 60-?[1] quest Viperon Elite, Count Misfortune - 665 969. This quest has a prerequisite, but the requirement is not shown in the database. It is possible to obtain, but only through lucky or persistent acceptance of every quest challenge that precedes it. More information would be appreciated.
++ For Decompose only: ☆☆Mystic Boots of the Watcher arcane.

Removed from quest as reward, probably removed from game : ☆☆Giant Ape Armor heavy body, The Lone Guardian, 61-90, Savage Native - 471 332. Subquests: Unexpected Awakening and Kill It Again. Requires killing the Gargantakong King- if there is no very high, very well equipped player to help, a cleric with Purify is a must, to remove the physical defense debuff with which the King curses its enemies

Removed from quest as reward, probably removed from game : Necklace of Guts - Physical Resistance 159, HP +70. Or Lunar Skirt, Physical Defense 89 +45, Elemental Defense +795. Was reward from six-part level 66 quest chain "Conspiracy of Night"- Elder Huo - 538 417; now a mere Celestone for going to six different locations in the Swamp and more.
☆☆Shinguards of Underworld Light Armor leggings are arguably superior to their Royal Cuisses counterparts in defense, albeit at the loss of two sockets (the hardest hit) some precious Dexterity (4-5) and some Physical Defense (39). They do not measure up well to the level 55 Dungeon Gear Foghide Blade pants. The other reward is quite clearly inferior; the ☆☆Hades Necklace Elemental is Magical defence +168, Metal defence +109 (even the lowly Etherdance Morrow Necklace, available at level 55, matches this). Both decompose to 101 Liuho stones. Level 67+ quest The Wraithgate from Wraith Hunter - 536 415
All decompose into three Perfect Stone : ☆☆☆Cuisses of Demon General (Heavy), ☆☆☆Armor of Demon General (Light), ☆☆☆Sash of the Wraith General (Evasion belt).
☆☆Heaven Robe of Ares. Level 99+ quest Seat of Torment - Messenger of Vacuity - Lothranis 422 578
☆☆Infinite Edge (magic sword) ☆☆Belt of the Boundless (phys def 248 necklace). Level 99+ quest Scavenging Box-Wu Ching - Momaganon 453 566 > The Headless's Soul - Wu Shang - Abaddon, 369 521
Old Perfect World
Edit
The belt rewards have identical stats, but the Protection refine to +physical resist and the Ethereal, to +magical. The level 80 belt is inferior to the level 70 Dungeon Gear belts made at Quicksand Maze from Heartward Jades, and
Level 80, teleporter in Old Heaven's Tear: ☆☆☆Sundown Pendant (Protection), ☆☆☆Nightfall Pendant (Ethereal). Physical and Elemental Defense: 100. Addons-Phys. Res.: +72, HP: +90, Vitality +1 or 2
Level 90, teleporter in Old Unicorn Forest: ☆☆☆Frostcore Pendant (Protection), ☆☆☆Vibrating Starlight (Ethereal). Physical and Elemental Defense: 125. Addons-Phys. Res.: +81, HP: +105, Vitality +3 or 4
Level 90, teleporter in Valley of the Scarred:
☆☆☆Requiem of Hell (Protection), ☆☆☆Jade of Heaven (Ethereal). Physical and Elemental Defense: 160. Addons-Phys. Res.: +91, HP: +120, Vitality +5 or 6
Level 95, Sage of Prophecy in OHT: ☆Guard of Thundershock (Protection), ☆Paradise Sachet (Ethereal), Physical and Elemental Defense: 200, Phys. Res.: +109, HP: +150, Vitality +7 or 8
Decomposition
Edit
++ These items are utterly inferior to the Royal armor available many levels earlier. Until the developers increase these items' power, they will remain a reward for crafters only, who can Decompose them.
See also
Edit