Neverfall dungeon featuring puzzles, and new outdoor world map areas. Implemented Thursday 13th April, PST server time
New Items
Edit
"Goldfoil : Aqua Crystal
"Goldfoil : Heaven Relic
"Goldfoil : Eon Ore
"Goldfoil : Spirit Gem
New Items
"Alliance Trumpet – Speak to guilds you are allied with!
"Cute Tiger Smiley Set – New cute tiger smilies!
Auction House Changes
"Card: Milkway Beauty, Card: Cloud Guidance, Card: Moony Butterfly, Card: Phoenix Feather, Card: Heart Flame, Card: Emerald Shadow
"Hawaiian Luau Fashion Pack, Snow Queen Fashion Pack, Master Archer Fashion Pack
"Weaponized Allosaurus Ride Ticket, Inferno Lionlord Ride Ticket, Shadow Fox Ride Ticket, Crimson Fox Ride Ticket, Black Raptor Ride Ticket, Royal Undine Ride Ticket, Netherworld Unicorn Ride Ticket, Nien Beast Ride Ticket
Skill Books
Edit
Main article: Skill Book
"Advanced Order Skill books for all classes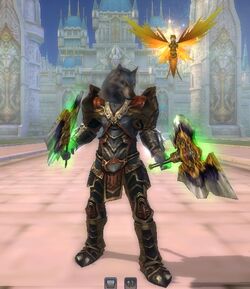 New Features
Edit
"Send Current Location – Click "Send Location" button to send your current location info to the selected chat channel. All players that have received the message can click the link to auto-path to that location.
"New Marriage Quests! Couples can take new Marriage Quests daily to get new rewards including new tomes, exclusive pets and more!
"Title System Optimization – All titles available in the game will be displayed and a better filter is added. You can also search for titles!
"Telacoustic Optimization - Using the world channel during the cooldown will cost additional :"Teleacoustics. 1 minute after using world channel, the Teleacoustic cost will be reset to 1.
Quicksand Maze – Material unbind fee lowered
"Coin - Coin cap and tradeable cap is increased to 1 billion. Quests have been added to trade for 50 and 100 Ten Million Big Notes at the PW Boutique Agent.
Cash Shop
Edit
"Copper, Silver and Gold Dragon Orders
"These items can be used to pick up an assortment of gear, mounts and Badges of Wisdom. Take these to the Dragon Herald NPC.
"Auto Recovery Stone: Enables the Auto Potion feature and increases the maximum daily limit of Active Points you can get.
"Arcane Book : Pet. Never let your pet go hungry!
"Teleport Bell: Can teleport to an activate node on a map you're currently on. The fee will increase depending on how many nodes you skip.
"Angel of Wishes: Item to teleport you when using the Teleportation function on the Event Calendar.
"Golden Steed Token has been moved to Ride > Beast
Ad blocker interference detected!
Wikia is a free-to-use site that makes money from advertising. We have a modified experience for viewers using ad blockers

Wikia is not accessible if you've made further modifications. Remove the custom ad blocker rule(s) and the page will load as expected.