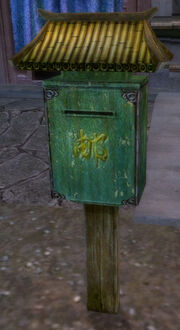 The
Mailbox
is a device used to send and receive mail, as well as access the Celestial Exchange. Next to most every
Auctioneer
and
Banker
is a Mailbox. When a character has new mail that has not been viewed, an icon appears on the
top right of the screen
Messages sent with it can include items. Items can be sent to characters on the same account, but each time it costs 500 coins, making the Account Stash preferable for this purpose. The exception is items that are intended to be stored, to save Inventory space, that cannot be risked at the Auction House or cannot be auctioned.
The character's name must be included, and spelled correctly, of course. In the subject line and the body text of the message, something, however short, must be written.
Characters cannot send mail to themselves.
Items such as a Jolly Old Jones Blessing, for example, can be saved for later in the Mailbox. This can circumvent potential problems with Blessing activation and procurement timing issues, to say nothing of playing on alternate characters.
Some of the Codes grant multiple, even large numbers of items. For players that wish to store these items for later, rather than opening them all one by one, select the item at one end of the stack, hold the Shift key, and click on the item at the other end of the stack, to select them all. Click the "Read" button, and the AI will automatically read them all, one by one, quickly. Players may already be familiar with this technique; it can be used to select multiple files or folders in Windows.
Ad blocker interference detected!
Wikia is a free-to-use site that makes money from advertising. We have a modified experience for viewers using ad blockers

Wikia is not accessible if you've made further modifications. Remove the custom ad blocker rule(s) and the page will load as expected.